Paleo, vegan, dairy, egg and soy free (depending on protein powder) ~ all gluten, wheat and refined sugar free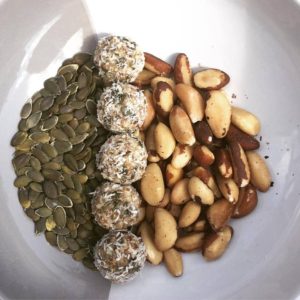 Ingredients:
10 medjool dates, pitted
200g brazil nuts
100g pumpkin seeds
100g desiccated coconut
50g coconut oil
1 tablespoon date syrup (optional)
Extra desiccated coconut for rolling
Method:
Mix dates, nuts, seeds, coconut, coconut oil and date syrup in a blender or food processor
Roll into 30 bite sized balls
Roll bliss balls in coconut
Store in the fridge
Each Thyroid Boosting Bliss Ball contains approximately 128mcg of selenium.  The recommended daily intake (RDI) for men is 70mcg and women 60mcg, but 200mcg per day is beneficial for hypothyroidism and optimal health.  Liv's prescription: 2 delicious Thyroid Boosting Bliss Balls daily!
Read more about Hypothyroidism Natural Treatment