Vegan, Paleo and free of gluten, wheat, dairy, egg, soy and refined sugar
I hit the jackpot with these healthy, raw Ferrero Rochers!  They taste unbelievably like the real thing!  If you know someone who eats too many of the real thing, keep their wrappers, make this version and wrap them up in the gold foils… they'll never know!
Ingredients:
2 cups lightly roasted hazelnuts
6 medjool dates, pitted
1/4 cup cacao powder
3 tablespoons maple syrup
Pinch of Celtic or pink Himalayan salt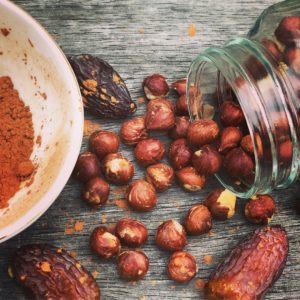 Method:
Add 1.5 cups of hazelnuts and the cacao powder to a food processor.  Blend until no chunks remain.
Add dates, maple syrup and salt.  Process until mixture sticks together.
Roll into balls and add a hazelnut into the centre, forming a ball around it.
Add the leftover hazelnuts to the food processor and pulse a couple of times until the nuts turn into chunks.  Roll the balls in the hazelnut crumb to coat them.  Enjoy!