With all of the health foods and conflicting information out there, the simple art of creating a healthy meal is now a source of stress and anxiety for many people.  Healthy meals and snacks should be easy to create, yet nutritious and delicious.  Here are a few ideas that I share with my clients…
Breakfast:
Smoothie/protein shake – you are only limited by your imagination.  Try different combinations of fruit, leafy greens (spinach/kale/silver beet) and water/plant based milk (almond/coconut/hazelnut milk).  You can even add nuts and seeds, including nut butters and LSA (linseed, sunflower seed and almond).  Keep it simple to avoid unusual flavour combinations.  I keep banana halves in the freezer so I can whip them out anytime.  Here are my favourite 3 combinations…
Green smoothie: 1 frozen banana, couple of handfuls of baby spinach, vanilla flavoured protein powder, 1 teaspoon of green powder (e.g. spirulina, chlorella or a green superfood powder) and 1-1.5 cups of water.
Berry protein smoothie: 1 cup of frozen mixed berries, 1 tablespoon of soaked chia seeds + 1 tablespoon of soaked flax seeds in half a cup of water (soak overnight in the fridge), 1 tablespoon of acai powder, vanilla/plain flavoured protein powder and 1 cup of milk (almond/ coconut/hazelnut).
Chocolate protein shake: ½ a frozen banana, 1 tablespoon of cacao powder, sprinkle of cinnamon, chocolate flavoured protein powder and 1 cup of milk (almond/coconut/hazelnut).
Salted Caramel Protein Shake recipe
Acai Bowl recipe (picture below)
Fruit salad: seasonal fruit with Greek yoghurt or coconut yoghurt and nuts.
Muesli: make it yourself with oats, dried fruit, nuts, seeds and coconut.  Either have it raw or toasted in the oven drizzled with coconut oil, cinnamon and honey or maple syrup.  Serve with fresh fruit and Greek or coconut yoghurt.
Porridge: plain rolled oats (quick cooking) or jumbo oats (slow cooking).  Serve with cinnamon, honey and nuts if desired.
Omelette: 2-4 eggs, serve with spinach, tomatoes and mushrooms.  Add smoked salmon, bacon or organic sausage to make it more filling.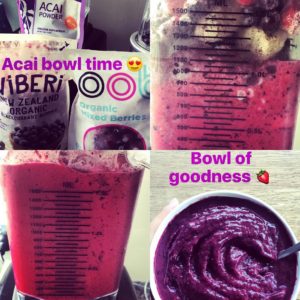 Lunch:
Summer option: smoked salmon, smoked chicken or boiled eggs with salad (greens, tomato, cucumber, carrot, capsicum, celery, beetroot, radish, sprouts, avocado, olives, feta and root vegetables e.g. potato, sweet potato, pumpkin).  Make salad dressing with olive oil, lemon juice or apple cider vinegar and salt/pepper.
Winter option: soup: meat/chicken and veggies with stock (bone broth is even better), vegetable soup with legumes (e.g. chickpeas, lentils or other beans), pumpkin with coconut cream or homemade minestrone.  Make a batch in the weekend, store some in the fridge and some in the freezer.  Check out my Pumpkin Soup recipe.
Easy option: leftover dinner: if you are organised and make enough the night before.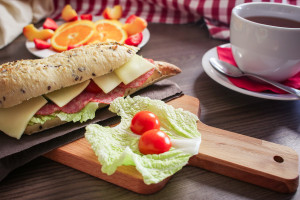 Dinner:
Step 1: choose a protein, step 2: choose a carb, step 3: choose a fat, step 4: choose a vege.
Vegetables should comprise of at least half of your meal.
| | | | |
| --- | --- | --- | --- |
| Protein | Carb | Fat | Vege |
| Seafood – include oily fish e.g. salmon, mackerel, sardines and anchovies | Root vegetables – potato, sweet potato, pumpkin, carrot, parsnip and beetroot | Oil e.g. coconut, olive, avocado, macadamia, flax and hemp (do not cook flax or hemp, and only use olive for low heat) | Salad |
| Poultry | Brown/black/wild rice | Avocado | Steamed veges |
| Red meat | Ancient grains – quinoa, buckwheat, millet and amaranth | Olives | Stir fried veges |
| Eggs | | Nuts and seeds – sunflower and pumpkin seeds suit salads | Homemade coleslaw – green and red cabbage, grated carrot and mayo |
| Vegetarian – legumes e.g. chickpeas, lentils or other beans | | Coconut milk/cream – make curries | Leafy green wraps -make wraps with lettuce, silver beet or collard greens instead of wraps |
| Fermented soy – tempeh (fermented tofu) | No carbs – they are not a necessity | Homemade mayo – egg, olive oil and lemon juice/vinegar | Herbs, spices and seaweed – incorporate into meals for flavour and nutrients |
Try my Colourful Kale Salad recipe.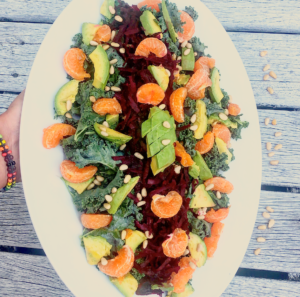 Snacks:
Fruit
Nuts
Vegetable sticks with nut butter (peanut butter, almond butter or any nut butter) or homemade hummus (chickpeas, tahini, olive oil, lemon juice and salt)
Bliss balls – made with dates, dried fruit, nuts, seeds, coconut, coconut oil and nut butter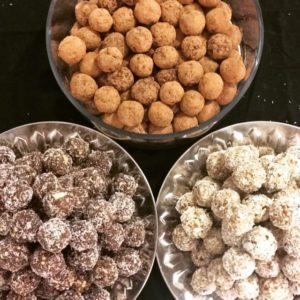 Salted Caramel Protein Balls recipe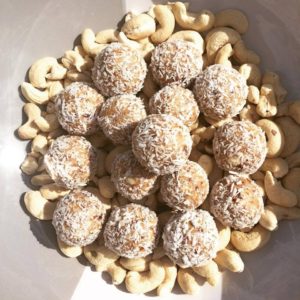 Peanut Butter Protein Balls recipe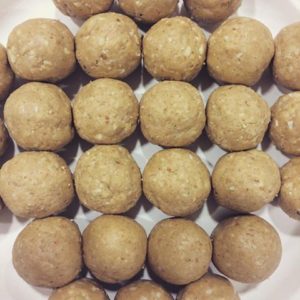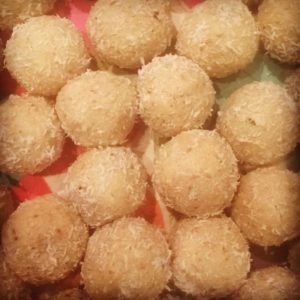 Chia pudding – soak 1 tablespoon of chia seeds in ½ cup almond/coconut/hazelnut milk, overnight or for an hour.  Add fruit and nuts if desired.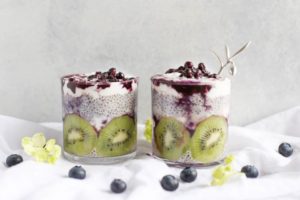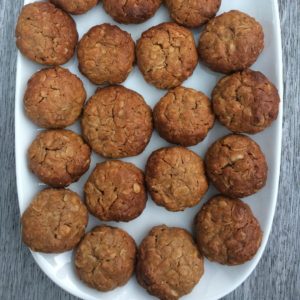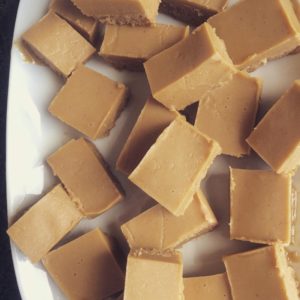 Salted Caramel Chocolate Cups recipe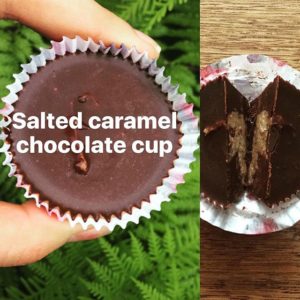 Banana Berry Protein Loaf recipe