I used to think kale was only for vegans or horses (no offence!).  I think I was the only Naturopath/Nutritionist for years who didn't eat kale!  Until I tried a massaged kale salad and now I eat it nearly every day for dinner (I miss it when I don't!).
Kale is very tense and stressed, but when you massage him he really relaxes and softens a lot.  Try massaging kale (or his brother cavolo nero – you got options!) with olive oil and lemon juice before adding other salad ingredients.  I use 1-2 tablespoons of olive oil and juice from one lemon.  This is the salad dressing so you don't need to add more dressing.
Every 100 grams of kale contains 200% of your daily vitamin C, 300% of your daily beta-carotene (converts into vitamin A), and 1,000% of your daily vitamin K.  Plus vitamin B6, potassium, calcium, magnesium, copper, and manganese.  All of that comes with 2 grams of fibre, 3 grams of protein and only 50 calories.
Kale is a member of the brassica family which have powerful liver-detoxing and hormone-balancing properties.
Eat kale as much as you can!  Unless you have an underactive thyroid (hypothyroidism), in this case avoid too much raw kale because the brassica family of vegetables are goitrogens which inhibit thyroid function.  For you, cooked is better than raw if you still want to enjoy most of the health benefits of kale.
#healthytakeaways
Switch iceberg/cos/fancy lettuce for kale/cavolo nero/spinach/silverbeet/rocket as much as possible.  Dark leafy greens are far more nutrient dense.  Phytonutrients are in the colour!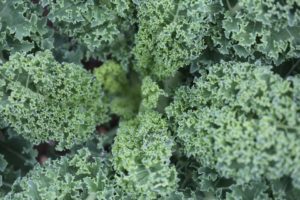 The main photo is my leftover chicken curry with brown rice (cooked together into a risotto) and kale salad.
My chicken curry is made with chicken thighs, can of coconut cream, can of tomatoes, bone broth (liquid or powder), veggies and spices (Celtic sea salt, kelp, curry powder, turmeric and cayenne pepper).
Check out my Colourful Kale Salad recipe here – this is my go-to salad nearly every night for dinner.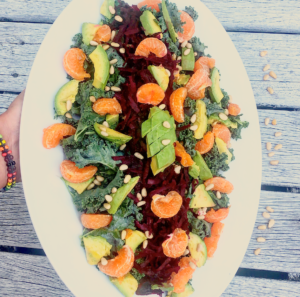 Your Nutrition Mentor,