(Latest photo of me)
We all go through phases of cooking the same meal, whizzing up the same smoothie, and reaching in the cupboard to pull out the same snack.  A Nutritionist is no different.  Habit removes the stress and time spent hovering around the fridge weighing up your options.
My go-to meals and snacks greatly favour eating SLOW – Seasonal, Local, Organic and Whole.  But more importantly my personal gut health.
I eat for a happy gut.  I even prioritise gut health over Nutrition.  I would choose a Ferrero Rocher gelato or a salted caramel chocolate over an apple or lentils.  After eating an apple or lentils, I am in so much pain it affects my mood and outlook on life.  Gelato and chocolate cause me no pain, and they have the bonus effect of boosting my mood and nourishing my soul.  I am not saying that I eat these foods daily, or evenly weekly, in fact it may be months.  I am just saying given the choice of A or B, if there is no C, I choose for my gut.
Breakfast:
Green smoothie – bag of baby spinach, frozen banana, peeled kiwifruit, tablespoon of soaked chia seeds, teaspoon of gelatin (usually a tablespoon of collagen but I ran out – gelatin makes it thicker than collagen hence why I put less), and a cup of coconut/almond milk.  To make it a bit more filling I usually add one serve of vanilla or plain protein powder (vanilla is sweeter) and a teaspoon of coconut oil.
Or
Pottle of unsweetened Greek yoghurt mixed with a teaspoon of vanilla or plain protein powder (usually a tablespoon of collagen – again protein powder is thicker which is why I put less).  Add a tablespoon of smooth peanut butter and half a teaspoon of cinnamon powder, mix again.  Throw on top a cup of frozen blueberries and coconut chips or desiccated coconut.  Mix one more time.  In winter it is a bit cold, I still love it though!  In summer, the berries thaw out quickly and create a beautiful blue swirl through the yoghurt mix.
Morning Tea:
Mandarins, orange, kiwifruit or pear, and 3 Brazil nuts.
Lunch:
Salad – bag of rocket, sliced pear, handful of chopped walnuts, sprinkle of parmesan, and dressing made with two tablespoons olive oil and one tablespoon balsamic vinegar.
With 2-4 scrambled eggs, add a knob of butter and a pinch of Celtic salt.  And cooked tomatoes in olive oil with a pinch of Celtic salt.  I also add parmesan on top of the eggs.
Or
My famous blueberry yoghurt dish if I didn't have it for breakfast, because I can't get enough of it!
Afternoon tea:
Carrot and cucumber – I am known for eating one whole cucumber a day!  I try to eat 2 carrots a day too since a Naturopath told me to when I was 8 years old.
And a teaspoon or tablespoon of tahini out of the jar because it is so good for you.
Or
My banana snack – banana sliced in half long ways, topped with a tablespoon of smooth peanut butter, half a teaspoon of cinnamon, and a sprinkle of desiccated coconut.
Dinner:
This is where the variety is.  As with most people, they will regularly eat the same breakfast and lunch, but just change up their dinner.  Everyone needs variety as different foods contain different nutrients – vitamins and minerals.  We all need these for the healthy functioning of our body.  Variety is even more important for people with leaky gut.  If someone with leaky gut overeats a particular food they can become allergic to it, the body's way of rejecting a food.
Fish and veggies – bake terakihi or snapper fillets topped with a handful of crushed hazelnuts, pecans or walnuts, a tablespoon of olive oil, pinch of Celtic salt and a pinch of kelp, in the oven for 15 minutes.  With roasted veggies e.g. potato, kumara, pumpkin, carrot, parsnip, courgette, capsicum, tomato etc. – drizzle with a tablespoon of olive oil, turmeric powder, pinch of Celtic salt and a pinch of kelp.  Tip: I cook my roasted veggies for an hour so put these in to cook 45 minutes before the fish.
Chicken and salad – marinate in olive oil, turmeric powder, pinch of paprika, pinch of kelp and pinch of Celtic salt, and pan-fry.  With a rocket, pear, walnut and parmesan salad, or my Colourful Kale Salad.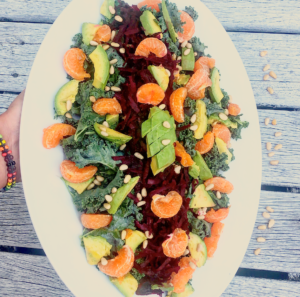 Chicken curry and rice – to make this better-than-butter-chicken curry, marinate 2 large chicken breasts cut into chunks with olive oil, turmeric powder, ¼ teaspoon curry powder, pinch of cayenne pepper, pinch of Celtic salt and pinch of kelp.  Pan-fry in a large pan until chicken is just cooked.  Add a tin of chopped tomatoes, can of coconut milk, and a 500ml chicken bone broth.  It takes a while to cook down but trust me, it is worth the time!  When it has nearly cooked down add chopped broccoli, cauliflower, and frozen peas/mixed veggies.  It should be bright orange when it is ready.  Serve with brown/black/red/purple rice.  I try and buy sprouted rice.  You can sprout it yourself too (but I'm not that patient!).
Steak and salad – marinate steak with olive oil, pinch of Celtic salt and pinch of kelp.  Cook until your liking.  Serve with my super Greek salad – cucumber, tomato, carrot, avocado, cooked beetroot – all chopped, with feta, olives, sunflower seeds (tamari flavoured are nice), and dressing made from juice from a lemon and a tablespoon of olive oil.
Burritos – in olive oil cook beef mince with Mexican beans or kidney beans, and fresh tomatoes or a can of tomatoes.  Serve with lettuce, tomato, avocado, grated cheese and Greek yoghurt as sour cream.  In gluten free burrito wraps or lettuce wraps.
Spaghetti bolognaise – beef or lamb mince with fresh tomatoes and tomato puree or a can of tomatoes, cooked in olive oil with a pinch of Celtic salt and a pinch of kelp.  I spiralise courgette into my mince to add more veggies.  Serve with gluten free spaghetti or zoodles (zucchini noodles).  I toss my gluten free spaghetti in olive oil and salt – it helps it stay moist and flavoursome.
Braised beef shin and veggies – slow cook osso busso (beef shin), potato, kumara, carrot, parsnip, leek, onion, and a can of tomatoes.  Add turmeric powder, pinch of Cayenne pepper, pinch of Celtic salt and pinch of kelp.  Serve with steamed spinach or silver beet.
Lamb rack and roast veggies – marinate lamb racks in turmeric powder, pinch of Celtic salt and pinch of kelp.  Roast with a selection of veggies (see above).  Serve with homemade coleslaw – shredded green cabbage, red cabbage and grated carrot.  I even add grated beetroot.  I use organic mayo as the dressing as it has less additives.  Even Greek yoghurt makes a delicious mayo.  Greek yoghurt combined with and avocado is a surprisingly good coleslaw dressing too!
Pork san choy bau (embracing my Chinese heritage) – cook pork mince in olive oil with diced spring onion, a bit of grated ginger and a splash of coconut aminos (or tamari – wheat free soy sauce).  Serve in iceberg lettuce cups with fresh coriander and roasted, crushed peanuts.
Pork mince Vietnamese rolls – cook pork mince in olive oil with diced spring onion, a bit of grated ginger and a splash of coconut aminos (or tamari – wheat free soy sauce).  I also add grated courgette and carrot to boost the veggie count.  Dip rice paper rolls in a bowl with hot water to soften.  Fill rice paper rolls with the pork mince and veggie filling.
Favourite condiment – I add pesto sauce to pasta, chicken or steak.  Pesto can enhance any dish.  I make mine with 1 cup basil leaves, 1/3 cup olive oil, 1/8 cup grated parmesan, 1/8 cup pine nuts, and pinch of Celtic salt.  Whiz in a Nutribullet or blender.  Chill until serving.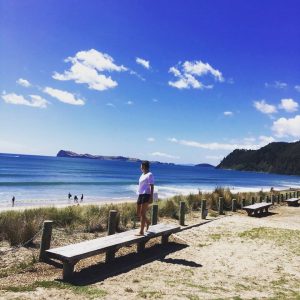 Pauanui, Coromandel
I now travel a lot for work… around Auckland and day/overnight trips to Northland, Whangarei, The Coromandel, Bay of Plenty, and New Plymouth/Taranaki. When I am travelling, or even just don't have time for breakfast at home, I have a Snickers Shake on the run.  I split it into 2 shaker bottles, for breakfast and lunch.
My Snickers Shake has 2.5 bananas, 3 tablespoons smooth peanut butter, 3 teaspoons cacao powder, ½ teaspoon cinnamon, 2 teaspoons medicinal mushrooms blend, 1 teaspoon gelatin (usually up to 6 tablespoons collagen when I have some), and enough coconut/almond milk to blend.  It makes about 1.3 litres.
I have my normal snacks of fruit and veggies for morning and afternoon tea.  Dark chocolate is my other go-to for long, tiring days.  I get motion sickness even when I am driving, which is unusual.  I use this excuse to nibble on dark chocolate coated ginger and crystallised ginger, as ginger helps nausea.
I prefer to pack all my own food while on the road, as it saves money and I find smoothies easy to digest.  I often don't have time to stop for a lunch break to sit down and chew my food 30 times a mouthful.  At least I know smoothies have been chewed for me and I don't feel guilty drinking them quickly while driving.  When I eat a full blown meal in the middle of a busy day, the rest of the day I feel fatigued and unproductive.  This is because my parasympathetic nervous system is not being accessed.
FYI Z gas stations sell gluten free chocolate raspberry brownies.  Inconveniently I have to fill up on gas a lot during my travels.
I drink a lot of water.  Maybe 4-5 litres a day.  I try not to count because it worries me a bit.  I pack all my own drink bottles.  I drink 600-700ml upon waking.  Take about 3 litres with me during the day.  And 200-250ml with magnesium and zinc powder before bed.  Add another 1-1.5 litres when I exercise!  I add natural electrolytes to my water when I exercise.  I need them otherwise I get lightheaded when standing up and toe cramps.  Probably because I have flushed all of the salt out of my body!
The weekends are more relaxed.  Breakfast is a coconut milk and chocolate nice-cream iced chocolate and raw slice.  Lunch is 2 eggs, cooked tomatoes, and gluten free baked beans on gluten free grainy toast with butter, topped with grated cheese.  Dinners include anything above.
Supplements – in the morning I take 50ml coconut or water kefir, 1 teaspoon of cod liver oil, natural B vitamin powder extracted from quinoa sprouts, probiotic (the company I work for), vitamin C, and DIM.  Pre-dinner I take 50ml kombucha and 1 teaspoon cod liver oil.  Before bed I take magnesium and zinc powders.
Coconut kefir and water kefir are food sources of probiotics and aid digestion.  Cod liver oil contains omega 3, vitamin A and vitamin D, all beneficial for the gut.  I take a probiotic in addition to kefir to get the researched beneficial bacteria strains, for gut health and immunity.  Vitamin C for immunity, stress and energy.  DIM to support hormone levels and encourage liver detox.  Magnesium promotes muscle relaxation, deep sleep, and prevents leg cramps and eye twitches.  Zinc is the most underrated mineral, check out my Top 10 Reasons Why You Need Zinc here.
Now that I am reading all of this it sounds intense but it really isn't.
Thanks for reading!